full of grace!
Sometimes Eric and I make like Hansel and Gretel and hoof it in the woods looking for neat stuff. We did that on Sunday. First we tried to find a cemetery and orchard that I had heard about in Charlton. I lost the directions so we ended up checking out Southbridge instead. We hadn't heard anything good about Southbridge so we thought maybe we could find a good abandoned house there to explore. When I read electric meters back in the summer of '00, I remember being pretty freaked out in some of the areas. That's probably because I had to go into dark, cob-webby basements with pelts hanging from the ceiling. Ok, that only happened once, but while we didn't find anything abandoned, we did discover Southbridge has great potential to be a cute town. It's too bad about Southbridge.
A little discouraged, we returned to home base to try a new approach. Eric did a little research while I ate a cannoli and found some potential places to check out in Leicester. Our mission to find things in the woods brought us first to Spider Gates. We have been to Spider Gates before and let me tell you, there is NOTHING scary about it. In fact, it's a pretty well-kept cemetery with the least scary headstones from that time period that I've seen. The Quakers aren't too up on showy stuff and the most interesting headstone there is a woman who had 2 husbands.
We showed up to Spider Gates to find a few goth kids at the cemetary, which was funny of course. Especially since Spider Gates is as far away from Gothic as the It's a Small World ride at Disney World. After walking around in the woods near the airport, we left for a different trail/road called Sylvester Street where there is supposed to be an old root cellar which you can walk around in. While we didn't find the root cellar, there were a bunch of old foundations that were overgrown and the houses were long gone. It was interesting to wonder why no one inhabited this part of Leicester anymore.
This was the most interesting plot we found. The front stairs were still pretty much in tact, there were some old metal appliances "in" the house, and there were 2 left foot shoe soles - one from a man and one from a woman - placed next to each other on the foundation. You can tell they're old because they were held together by nails.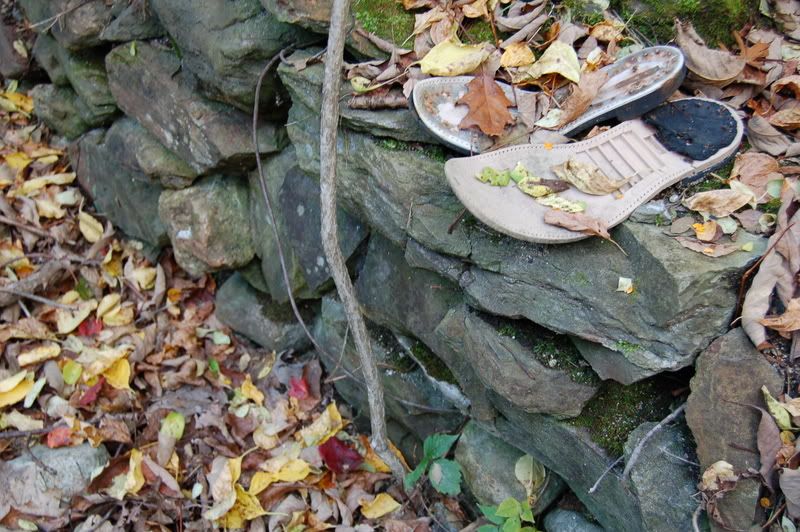 Another strange occurrence on our woodland journey was that we found the handle to a gardening shovel in a fresh shallow hole - someone had been there not long before us! That's the scariest part about being in the woods. It's not the ghosts, gouls, wizards, witches, hobbitts, spirits, demons and monsters there; it's the potential people and dogs.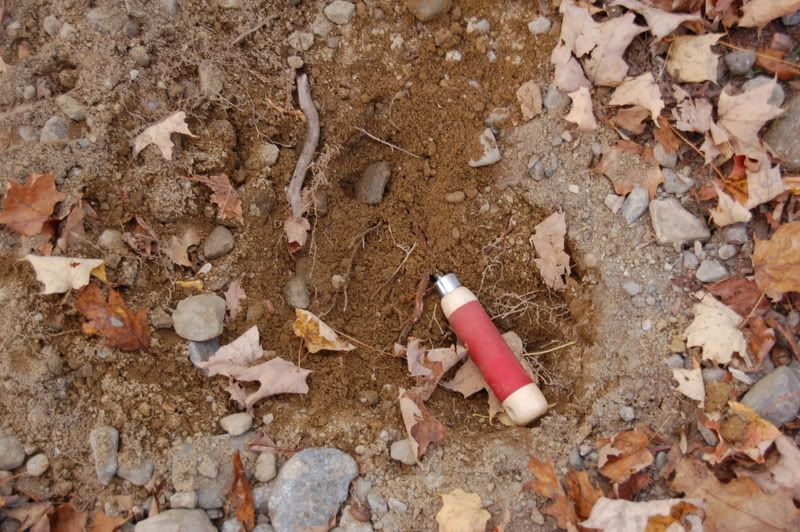 The best part of the day was the end. Where we parked our car is an old, but still functional, Catholic home for boys. Outside along the sidewalk are the stations of the cross. Across the street, is a large shrine to Mary. The statues had flowers and Rosary Beads adorned on them. I wanted to be like Mary.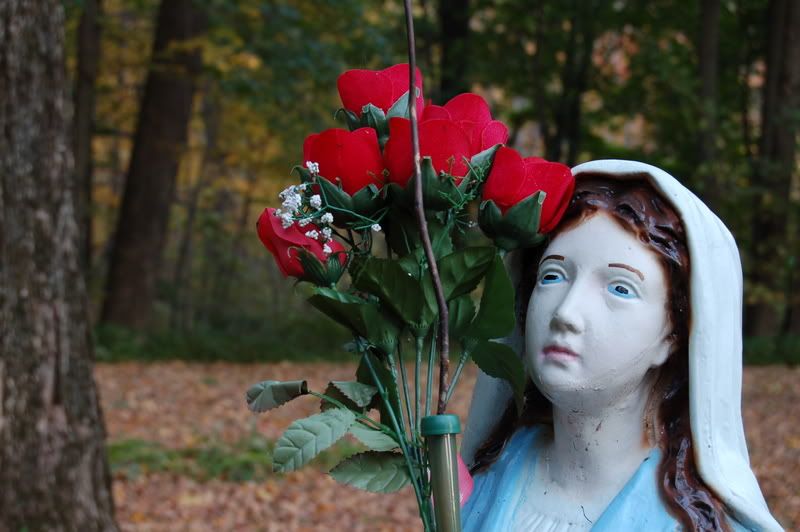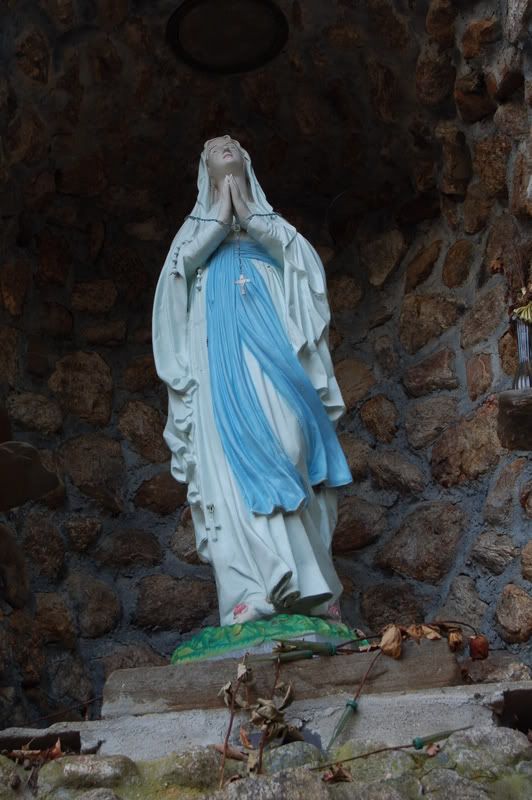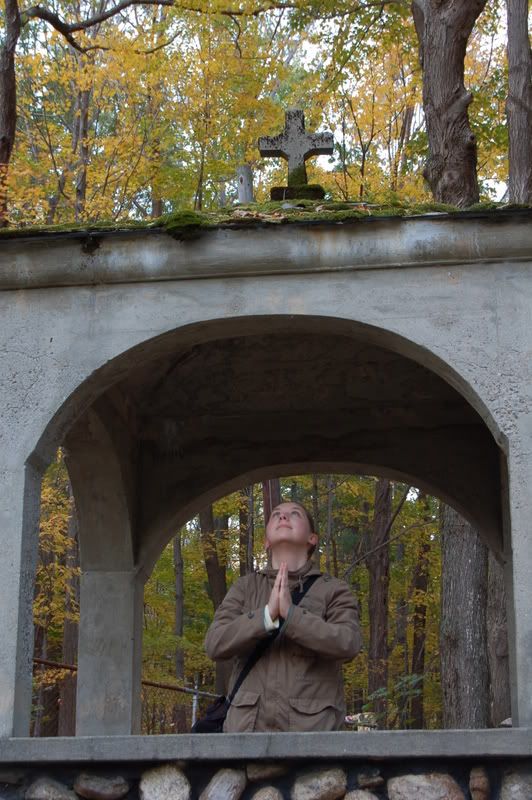 And one cat picture for good measure. Razzle is so cute!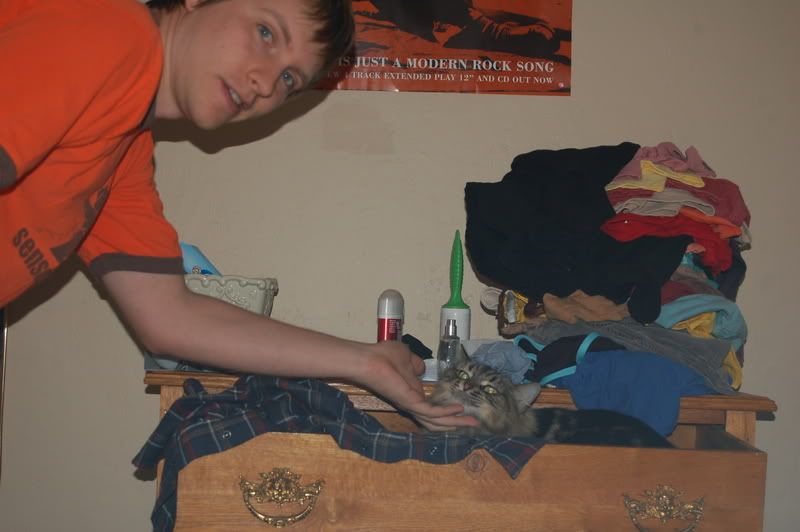 Labels: abandoned, leicester, massachusetts, nun cemetery, sylvester street