California Über Alles
Over Labor Day weekend, Erin and I went to California to hang out with
Veau
, Emily, and Katie. Of course we were stoked that we got to hang out with Em's brothers too. So we headed out Friday night and drove the 6 or so hours from Tempe to Anaheim.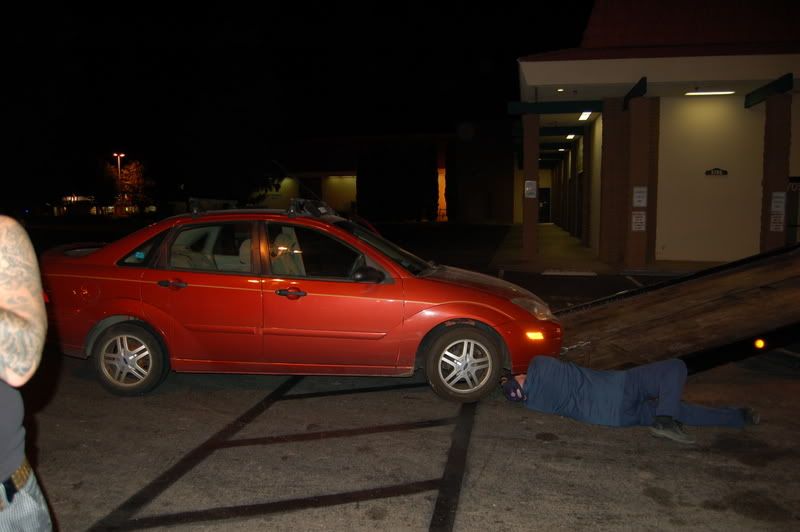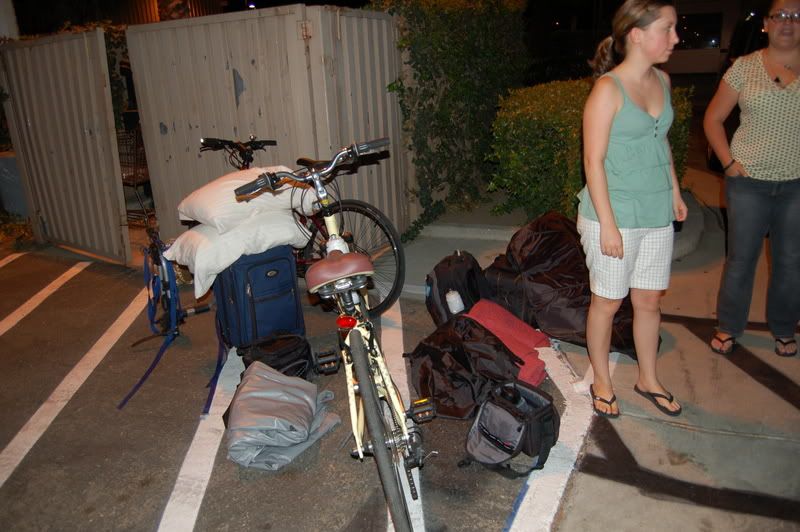 It seemed like a pretty easy ride until we made it to around Riverside, CA and the car started making funny noises and then Erin felt the steering go haywire (not something cool on a 5+ lane freeway) and we had to pull off and get AAA to tow the car. Luckily, we were only about 20 minutes or so from
Veau
and Emily's, so they came and got us. That was the 1st time that weekend we felt lucky that we didn't break down in the middle of the desert.
We ended up getting the car towed to a dealership, and, in spite of getting ripped off with labor charges, we felt fairly lucky that we got the car back on Saturday. It ended up being the rear bearings.
Once that was all squared away we could relax. It felt so damn good to see
Veau
. He looks like a California native these days. The apartment that he and Emily have is in a historic building in Anaheim. It's awesome. It has all sorts of built in bookcases and cabinets and wood. It didn't have air conditioning and it was a hot weekend for LA, around 100 degrees. Erin and I didn't feel too bad; I guess we're getting to be real Phoenicians!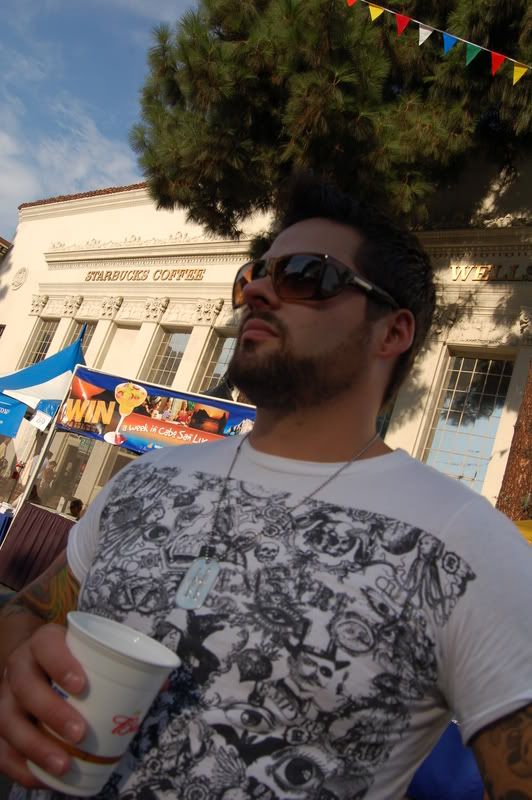 AC or no, we were super jealous and they're apartment made us miss our old apartment in Worcester.
Veau
has a great set up out there and the Finches are super-fun, so we suggest that our East Coast friends go see
Veau
as soon as you get the chance. Or you could come see us. Either way, it's really exciting to know that
Veau
and I are only a few hours drive apart nowadays.
Saturday morning was shot by the time our car troubles were finally resolved, but we still made a valiant effort to go to LA and see a movie that they show in the Hollywood Forever Cemetery. Unfortunately, there was no parking, so instead we headed over to Chris-
O's
for a spell and then we were off the legendary RIO for karaoke to celebrate Katie's birthday.
Some of you may remember our stories or pictures from the Rio on our last trip to California. We have a
picturefrin
that trip of Nick Finch and I in the women's bathroom posing jubilantly next to toilet overflowing with shit and blood. While this visit did not turn out as perfectly as that one, Smitty was in all is perverted glory and there were enough haggard, sorrowful drunks there to keep us amused. Oh how we love the RIO!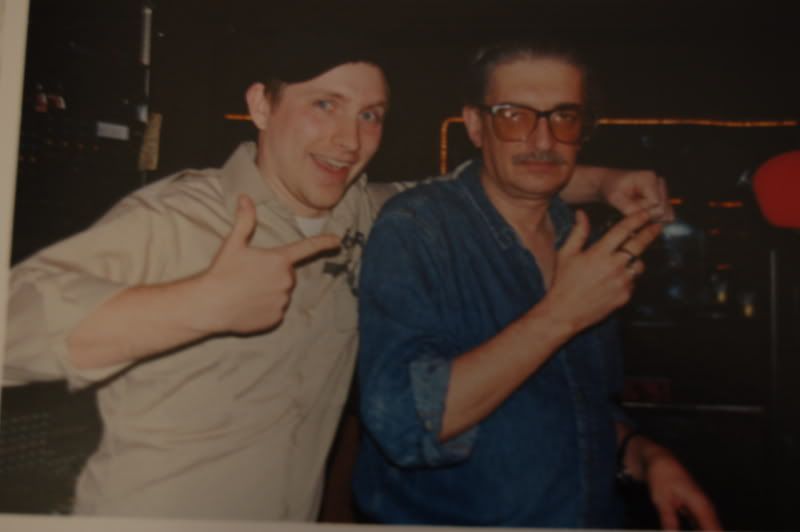 Black and White saves you from
seeing what we saw... ME and Smitty -
BFF
4 Eva!
Sunday afternoon we went to the street fair in Orange. It was a cool time. It has a multinational theme that is mainly expressed through myriad cuisines. It made for good people watching. This is where we took the most pictures, so allow me to give you a picture tour.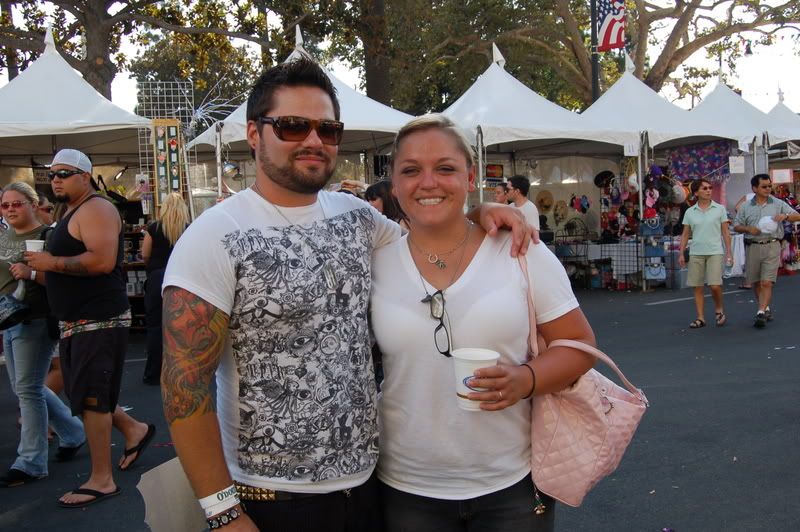 Veau
and Emily!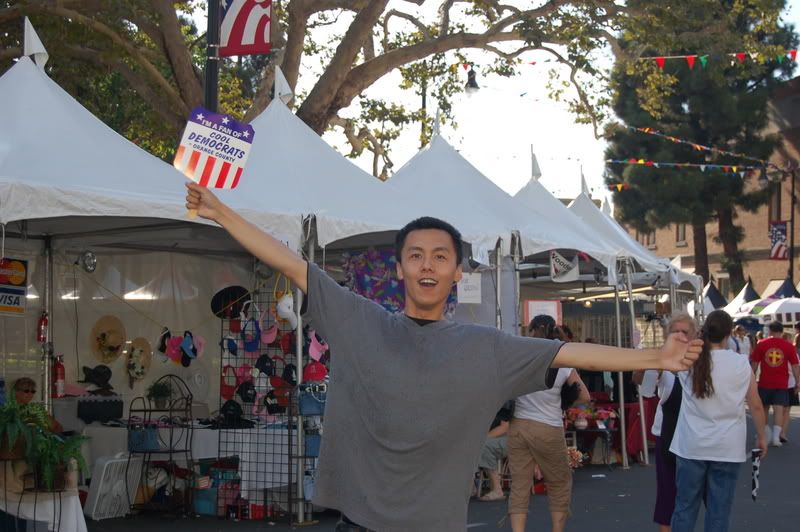 This dude was super pumped to have his picture taken. We don't know him. If you enlarge the picture, you'll see that the fan says
I'm a fan of Cool Democrats of Orange County
.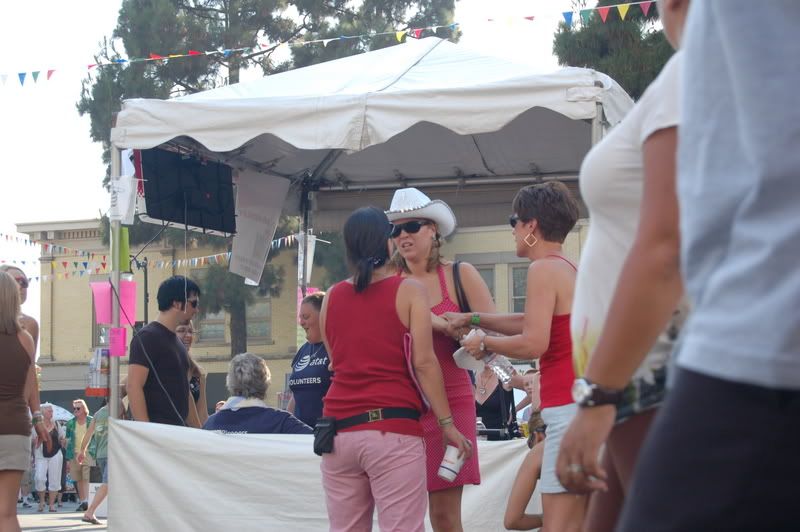 These bitches were having a fight. One was talking shit behind the other one's back! Can you believe that? She's such a backstabbing whore!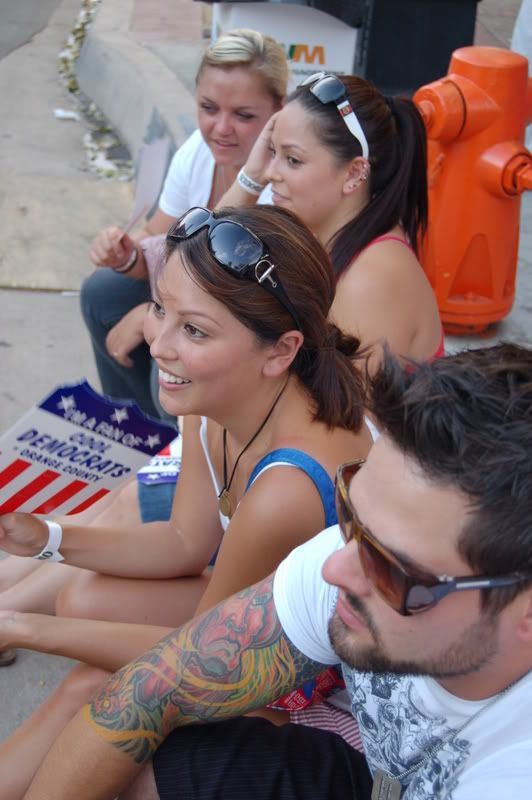 Veau
, Emily, Marissa, and Nicole watching the argument from the curb. The nerve of them! They should mind their own business...or...covertly take pictures of the fight like Erin was doing.
The dude on the left looks like a Karate Kid
villain
from Bavaria. He is so rad.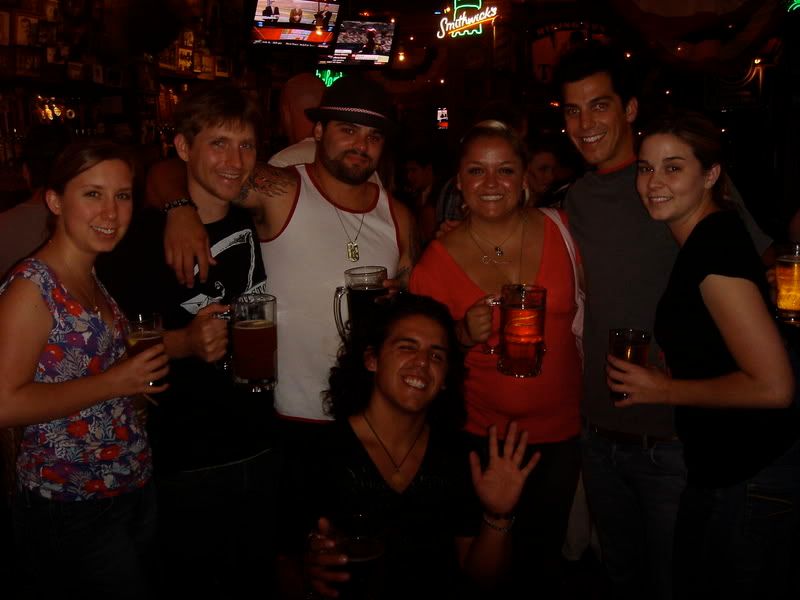 Later that night, we went to a pub in Fullerton called Heroes. It was a lot of fun. We hung out with Katie and her boyfriend, Jacob, as well as all the street fair crew. They serve beers in pint glasses that have to weigh a ton.
Our ride home was not so fun. After driving for almost 3 hours through the desert, we stopped in a town called Blythe, California to get gas. It is actually the last town in CA before you get into Arizona. It's also about 10 degrees hotter than Phoenix on average. So....that's where our car decides it's going to stall. We were pretty freaked out. We tried driving it for another 20 miles or so before we pulled into rest stop and decided it was unsafe to drive any further. We couldn't break down in the desert. So, we called AAA, even though we didn't know if there was anyone willing to tow a car from CA to Phoenix. Luckily, a company from Blythe does tow that far, but it was $5 a mile for 170 miles. We were pretty bummed, but what could we do? Then to make matters worse, AAA called back and told us it was actually going to be $8 per mile. Well, Erin wasn't having any of that and set them straight pretty quickly - they misquoted us, so they had to tow us for $5. It ended up working out.
From the rest stop, we actually had to be towed back to Blythe, and then wait there for an hour. Did I mention that we already waited 2 hours at the rest stop. Finally, a truck came that would take us home. The truck had a front and back seat and was pretty comfortable. The driver was this dude named Anthony who was about our age and really cool. That made the ride a lot better.
Oh...1 more story. On the way back we had to stop and jump a truck with a dead battery. It was pretty scary. The people were off the highway and down some sort of a creepy dirt road with a weird dirt patch at the end of it. They were pretty obviously drunk or messed up on something. They were dumping shit from a U-haul trailer out onto the ground. Anthony didn't seemed nervous, but the dude looked like a murderer if I ever saw one and we were pretty isolated. Then, their AAA card was no good, so they had to pay and the murderer kept asking Anthony "Why don't I just bend over so you can fuck me in the ass?" Very scary. We were glad to get out of there intact.
So, our time in California was great, but getting there and back was a haggard ordeal. Well, tomorrow we're heading to
Sedona
. Check back soon for more on that trip.
Labels: blythe, broken car, california, orange, street fair, the rio, veau