Alpacas Galore - WARNING! ONLY FOR THE VERY BORED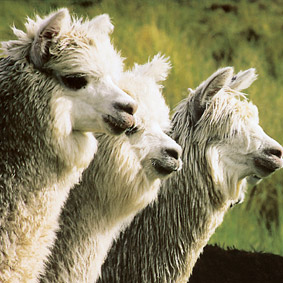 I first heard about raising alpacas a few years ago, but thought it was an isolated case. Apparently, I was wrong...or the Alpaca Owners of America want me to believe differently.
It all started again when I saw a commercial for Alpaca Farm Day (which was actually over the course of a weekend). Eric and I thought, "huh, that's weird" and had a chuckle. Well, now there's this one:
I love alpacas.
The curiosity went further so I did some "research" on you tube and this is what I found.
Mating
...yeah that was uneventful.
Mmmbop
*you have to make it at least to 2 minutes on this one, to the end is better.
You only have to watch about 20 seconds of this one.
Wild.
Wait for it...
Puppies and alpacas
NOT AN ALPACA.
Trust me, if you were born in the 80s or had kids in the 80s you gotta see this.
Labels: alpaca, me and my llama