Buying a Used Truck Part One - The Road to Tempe Honda - Introducing Marv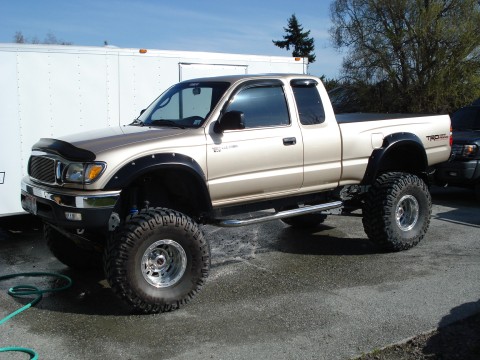 The time has come. Erin and I can no longer exist with only one vehicle. For nearly a year now I have been relying on my bicycle to get me around, but circumstances have changed and now we need more wheels. While we have not actually purchased a truck yet, our attempts to purchase the truck have become so ridiculous that I thought it might be fun to share our experience as we go along, hence this series of blog entries.
When we lived in Massachusetts we would never have considered buying a truck, but now that we live in Arizona, we have found that there are some benefits to owning a more durable vehicle. Since our move, we've really taken up hiking and camping as serious hobbies and there are lots of great hiking/camping areas that can only be accessed with a higher clearance vehicle.
We don't want an SUV. We're looking for something more practical. Our car, a Toyota Matrix, is a great hatchback, so an SUV might offer more room, but not considerably more room. We decided on a smaller size truck. Our favorite is the Toyota Tacoma. Our ideal vehicle is a 2002-2004 Toyota Tacoma TRD Prerunner extended cab. They have great clearance, decent gas mileage for a truck, they hold their value well, and they look rad. The one pictured above obviously has a serious lift, but even the regular Tacoma Prerunners have good clearance.
We have become quite savvy shoppers. However, let me take you back a couple of weeks and catch you up to speed.
One Saturday a couple weeks back, Erin heard an add on the radio that a Nissan place on Camelback Road was selling repo-ed vehicles. We went over and the inventory was pretty picked over, so we headed across the street to Courtesy Chevrolet. We told the salesman who was "helping" us what we were looking for. This man took our request very seriously. We said we didn't want to spend a lot of money, so he lead us to a lot about 1/4 of a mile away to a lot that looked like a junkyard. He then tried to sell us sundry jalopies, including but not exclusive to a busted Land Rover, some sort of a V8 Superduty, and an employee's Tacoma TRD. This was our first introduction with the Prerunner TRD. Love at first sight...
Needless to say, we did not buy a truck at Courtesy Chevrolet, even in spite of the salesman's assurance that we were making a big mistake in not paying $12,000 for a giant, junky truck that was probably intended for the auction.
Erin and I then headed over to Tempe Toyota, which is where we bought the Matrix. They were nice enough when we bought the Matrix, so we thought we'd try them again. They were still very helpful, but they didn't have anything in our price range that day.
Next we headed next door from Tempe Toyota to Tempe Honda. Upon arriving we were greeted by a friendly older gentleman named Marv. Marv has become an important and ubiquitous figure in our lives since then, so let me begin my drawing a character sketch of our friend Marv.
Marv is retired. He retired from a very successful business career, moved to Arizona, got itchy in retirement, and so now he sells used cars at Tempe Honda...for fun. Marv is the best used cars salesman from the buyer's perspective because Marv doesn't HAVE to sell you the car. If you don't buy anything, no skin of his back. He's just happy to chat, which is cool because he's fun to talk to. He does try, only he's honest, so his trying is actually helpful. However, we have noticed that Marv's honesty and nonchalant demeanor exasperates his sales manager. This is also a good sign. Erin and I are tough customers (literally) and instead of getting frustrated and giving up on us, Marv says he admires us and he tries quite hard to get us what we want! Marv's the best.
However, our first ride with Marv was ill fated. We found a 1999 Jeep Wrangler on the lot of Tempe Honda and it was reasonably priced, so I decided to try it out. Only problem was that it was a manual transmission. Erin doesn't drive manual. I haven't driven manual in probably 8 years and I was never any good at it in the first place. Nevertheless, I hopped in the driver's seat, Erin climbed in the back, and with Marv riding shotgun I lurched and jerked my way around around the block. It was not a comfortable ride, but I only stalled it once and the clutch survived. We did not purchase the Jeep. Marv was very reassuring during the ride, but when we arrived back at the lot he did not seem to hold the same hope for the improvement of my shifting skills he displayed during the ride. Perhaps his confidence was a survival mechanism more than a sales technique...
After we parked the Jeep, no one could figure out how to remove the key from the ignition. They put the thing in all the different gears, messed with the emergency brake and the clutch, turned it off, turned it on, pushed in on the key. At one point there were 4 people trying to get the key out including me. Finally, I noticed that there was a button behind the ignition that you had to push in and we removed the key. It was ridiculous.
Marv took our info and it wasn't long before he called back to tell us that he had Toyota Tacoma TRD Prerunner extended cab. However, I will leave the saga of the Tacoma for my next blog entry.
Labels: arizona, Big Two, honda, Jeep, prerunner, tacoma, tempe, Tempe Toyota, toyota, truck, used cars, used truck, Wrangler