Kickin' 'round the Valley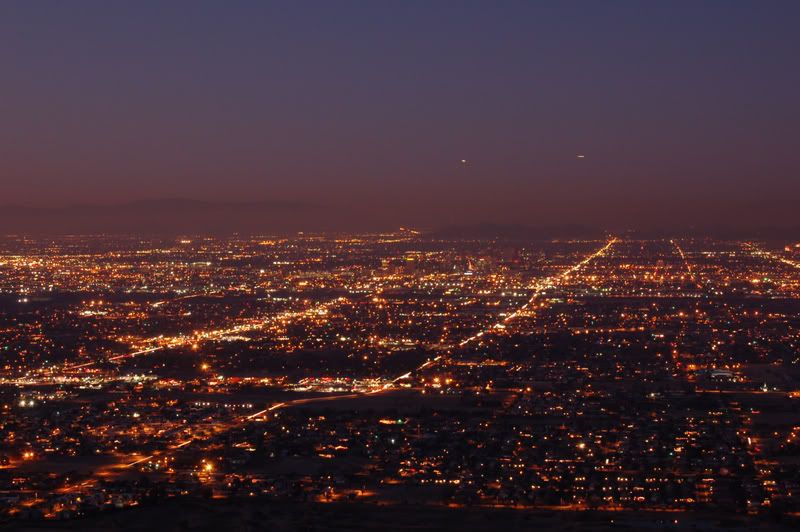 The other night Erin and I took our cameras and headed to the lookout point on South Mountain. We were trying out Erin's new
Diana +
camera and my new Holga from
Holgamods
. We got one another plastic toy cameras for Christmas. Those pictures will be ready to pick up at
Tempe Camera
on Monday. We hope the results will be good. All these photos are from out trusty Nikon D50.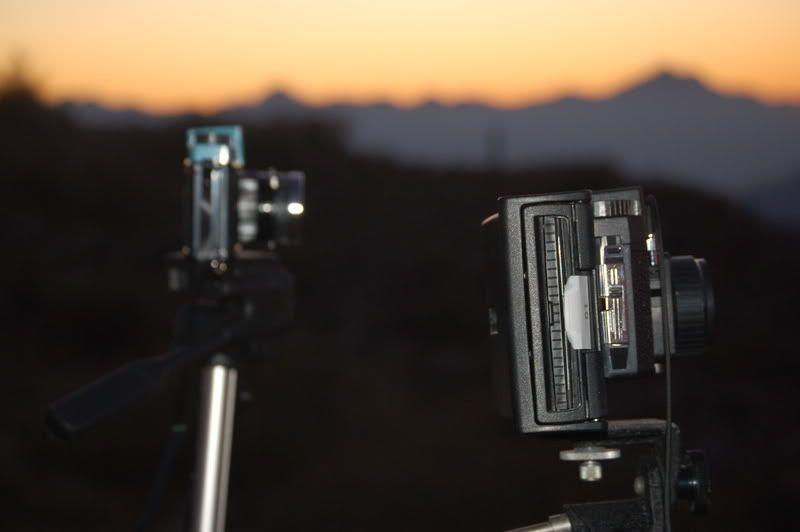 This Diana+ is in the background, the Holga's up front. I have the
Holgaroid
Polaroid attachment on it.
The sun setting behind South Mountain.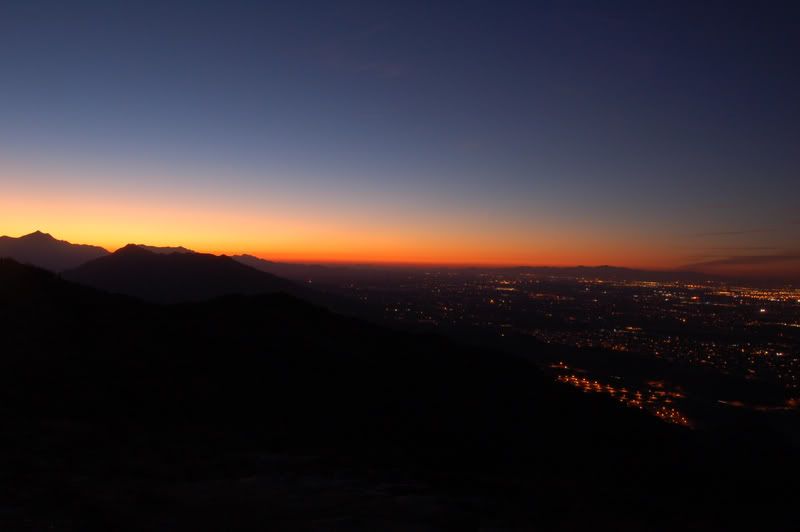 The sunsets out here are awesome and it doesn't hurt that we can just drive up our local mountain to see them.
On New Years Day, we got up and tried to recover from our crazy New Years Eve (we watched
Mr. Bean's Holiday
and didn't realize it was 2008 until 12:07) by heading out to the White Tank Mountains in Goodyear, AZ.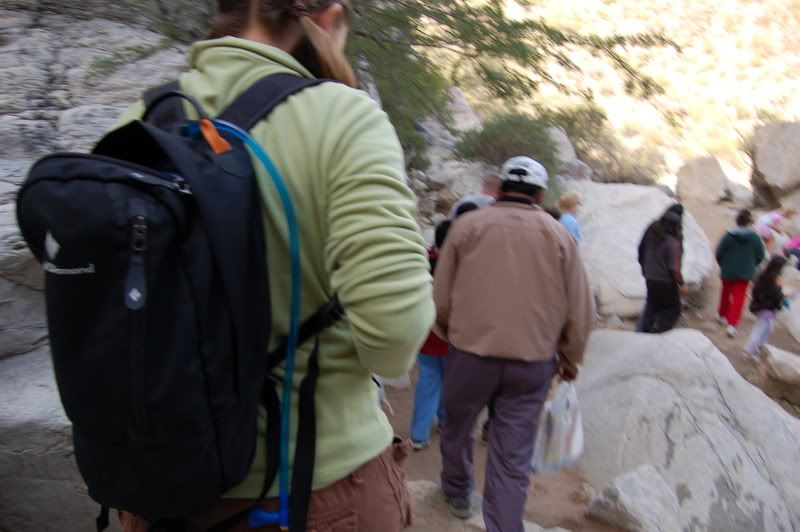 Our hiking book suggested a trail called the Waterfall Trail and said it had great petroglyphs. It had a lot of petroglyphs, but it also had about a billion other people. Real annoying people who walked side-by-side at unfathomably slow velocities. It was like being at the
Grafton Flea Market
. The petroglyphs were alright, but there are way better petroglyphs on the Hieroglyphics Trail in the Superstitions (
see previous blog entry
).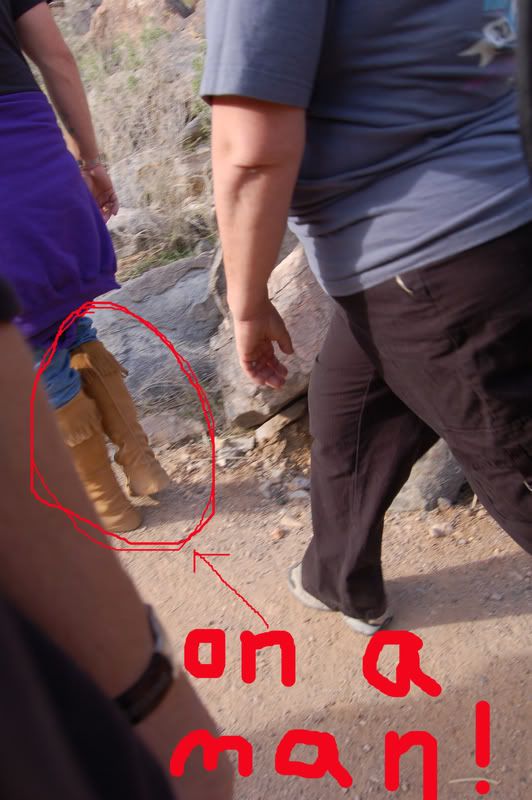 However, we did see a man wearing these boots! I tried to take a discrete picture and this is best I could do. He had a
mustache
. He looked weird, but way to normal to be wearing such haggard boots.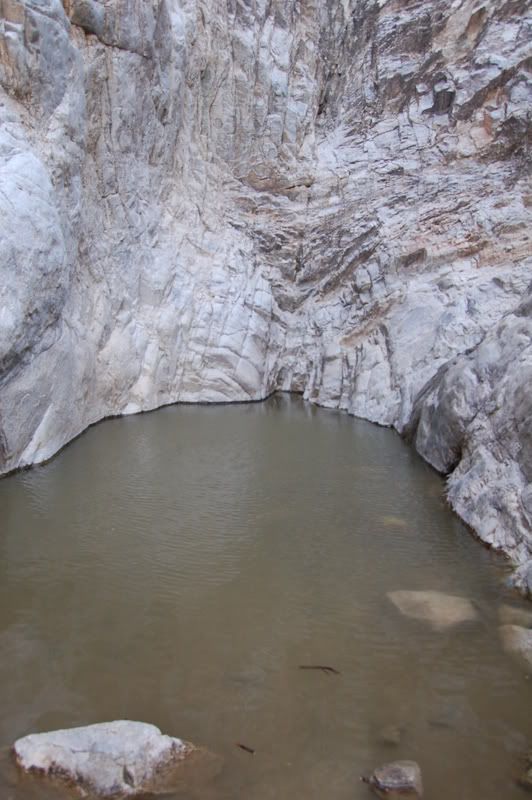 At the end of the Waterfall Trail was this pool of water. The way people were crowding around looking at it you would think we were in a scene from
Dune
. Kids were throwing rocks in. It sucks when people show up and leave a negative imprint on a natural place. If you don't appreciate what you're looking at, just go somewhere else.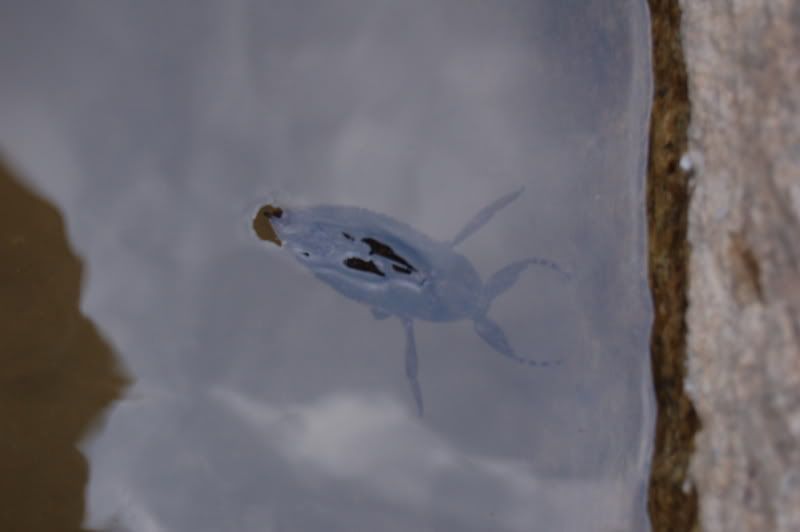 This, as Sean Flanagan could certainly tell you, is
giant water bug
(a.k.a a toe-biter) and he was in the pool. It was definitely over 2 inches long. It looked like it was dying.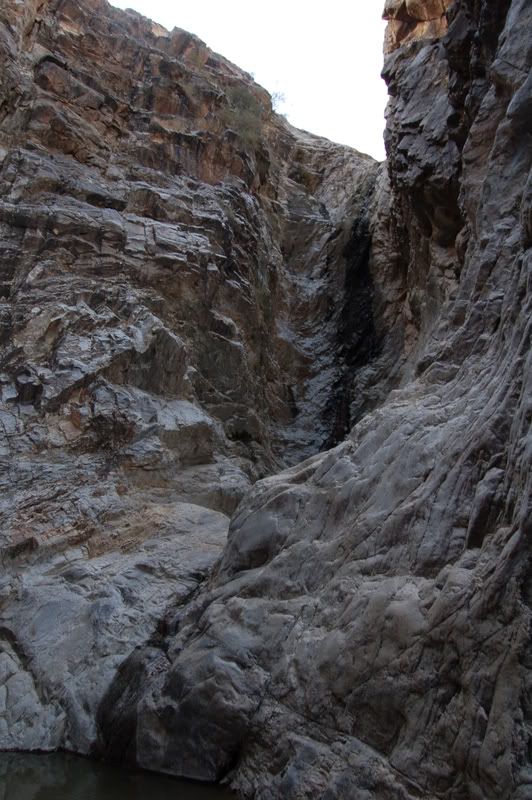 Here's where that water runs down to fill the pool, hence the name Waterfall Trail.
After our hike I went into the bathroom and overheard the following conversation in the large handicapped stall between a man and a very young boy who I assume was his son:
Little boy: I whispered the bad thing again.
Man(somewhat disinterested): Oh ya.
Little boy: I said the bad thing again.
Man (in a flat tone): You mean "gonads"?
Little boy: I don't want to pee by myself.
Then the little boy commenced singing the theme to "George of the Jungle" incorrectly.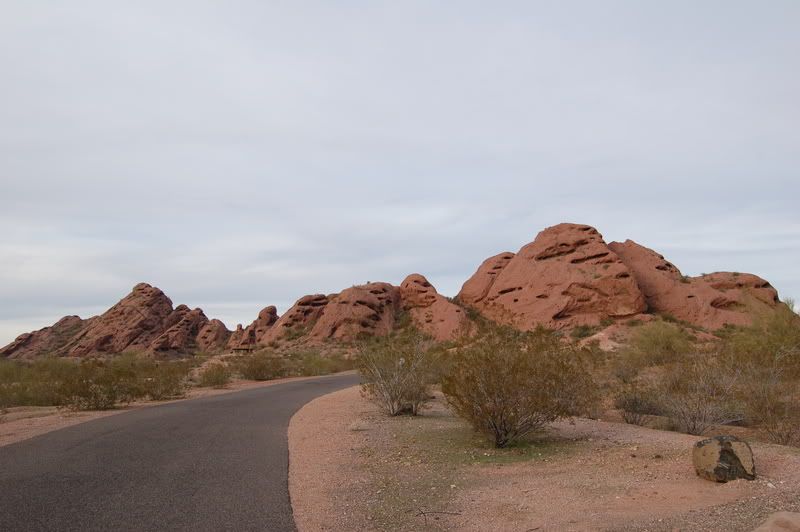 After our disappointing experience at the White Tank Mountains, we decided to head to
Papago Park
and climb the buttes. It was really windy! The buttes are a fun, quick hike and you get a pretty good view from the top.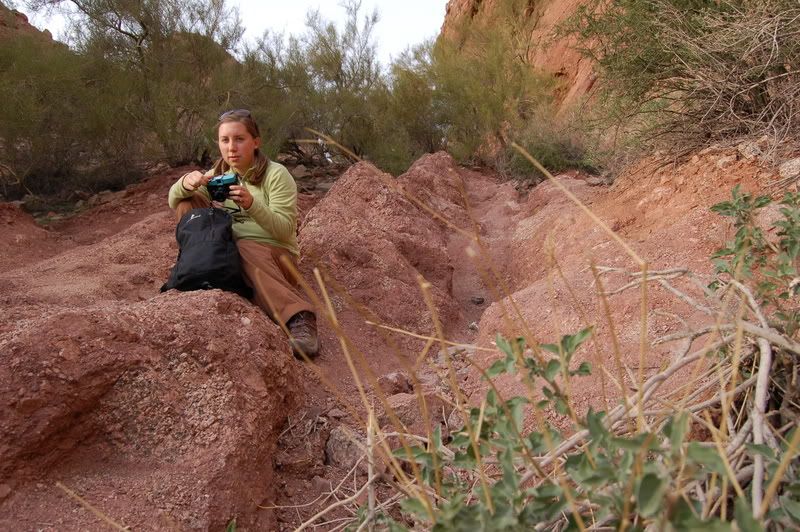 Erin taking a picture with her new camera.
Papago Park is actually right in the middle of the city. I think it's actually in Phoenix, but on the Tempe line. You would never know it from the pictures, though. Look how mint the sky looks. (It looks a lot cooler if you click on the picture to enlarge it.)
Let me explain these blurry pictures. I used an old body cap, some tin foil, electrical tape and a lens filter to make a pinhole "lens" for the Nikon. Basically, these pictures were taken with a tiny hole in a piece of tin foil.
Pinhole
photography is a really old form of photography. This is a real old meets new kind of deal - digital pinhole. The plans to make your own are
here.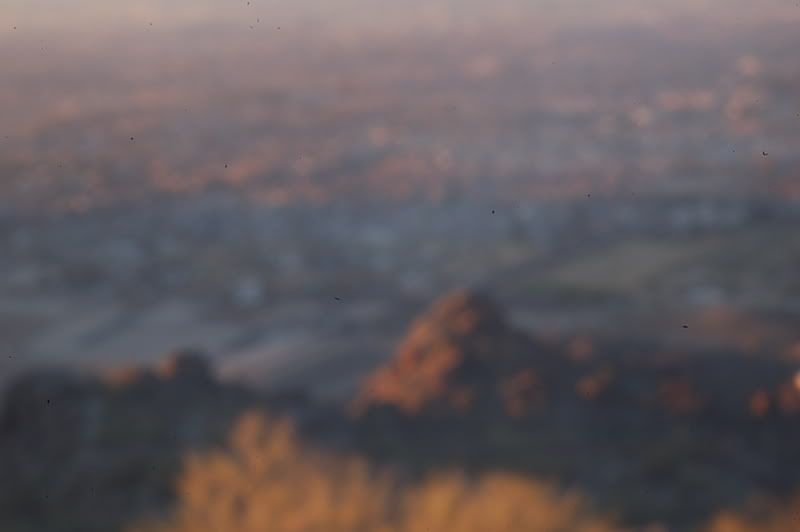 Phoenix from South Mountain.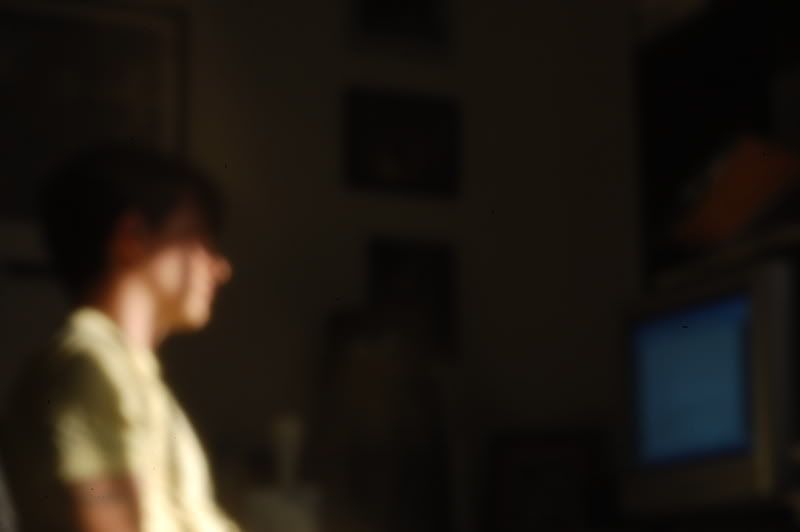 Pinhole self-portrait. For an interesting photographic experience, check out this dude's take on pinhole photography. His name is
Wayne Martin Belger
.